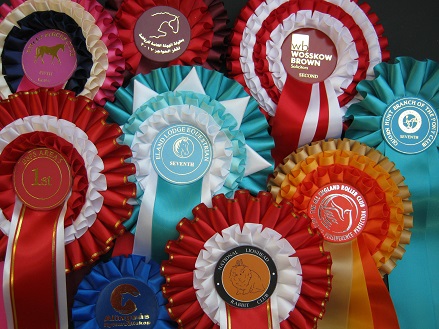 Our range of Club rosettes come in variations of both Box and Knife pleat and a wide selection of colours.
All our rosettes are available in any colour scheme at no extra charge.
All ranges come with a FREE Bridle Clip, Safety Pin, Sticky Bud or Tape fastening.
All rosettes come with longer tails than most other suppliers and are supplied bagged in sets in Film Fronted bags.

Economy Rosette Range
Our most popular Rosette, which can be supplied in any colours scheme, An ideal choice for an Open Show or where you have many classes to cater for. Supplied packed in sets and in film fronted bags.
Quantity
1 TIER
E1
2 TIER
E2
3 TIER
E3
4 TIER
E4
Up to 50
86p
112p
127p
152p
51-200
79p
107p
120p
143p
201-500
74p
102p
114p
137p
500 PLUS
64p
96p
109p
129p
OVAL
Add 6p
Add 7p
Add 9p
Add 12p

De Luxe Rosette Range
A slightly tighter pleat than the economy rosette it comes in any colour combination.
An ideal rosette to include your Club or Sponsors colours. Comes with a choice of fixings and supplied in sets, packed in film fronted bags
Quantity
1 TIER
D1
2 TIER
D2
3 TIER
D3
4 TIER
D4
Up to 50
89p
118p
130p
159p
51-200
82p
112p
126p
149p
201-500
76p
106p
122p
142p
500 PLUS
70p
100p
118p
135p
OVAL
Add 6p
Add 7p
Add 9p
Add 12p

Prestige Rosette Range
A more traditional rosette utilising our tight knife pleat, this is the rosette for those once a year shows that you may have to store the leftovers until the following year.
Available in any colour scheme and supplied in film fronted bags.
Quantity
1 TIER
P1
2 TIER
P2
3 TIER
P3
4 TIER
P4
Up to 50
90p
119p
131p
160p
51-200
83p
113p
127p
150p
201-500
77p
107p
123p
143p
500 PLUS
71p
101p
119p
136p
OVAL
Add 6p
Add 7p
Add 9p
Add 12p

Super De Luxe Rosette Range
The Ultimate in a Club Rosette, packed with ribbon it emulates the old Elizabethan Ruffle.
Available in all colour ranges this Rosette is supplied with any fixing, in any colour scheme, and comes to you in clear film fronted bags.
Quantity
1 TIER
SD1
2 TIER
SD2
3 TIER
SD3
4 TIER
SD4
Up to 50
100p
134p
161p
203p
51-200
96p
129p
153p
193p
201-500
89p
123p
147p
183p
500 PLUS
83p
119p
141p
173p
OVAL
Add 6p
Add 7p
Add 9p
Add 12p