Rosettes - Welcome to the World of Showstoppers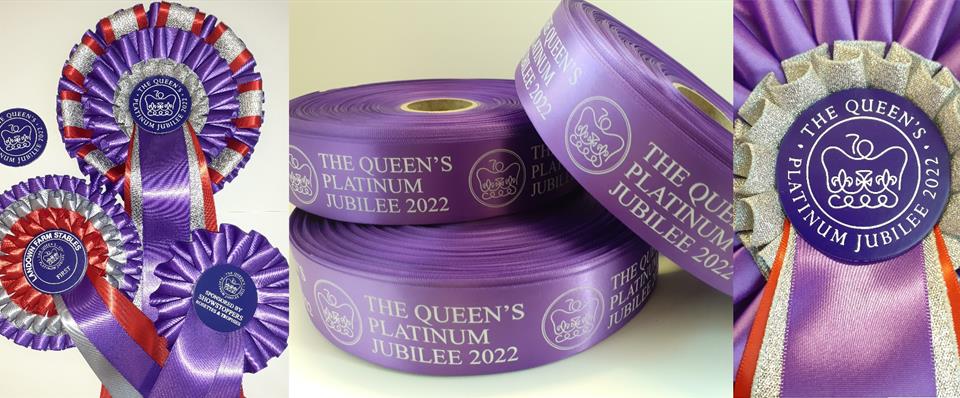 Rosettes from Showstoppers
They are one of your most effective marketing tools: once your competitor has left your show with their rosette, it is a constant reminder of a good day out at your Club. Once it is hung up on the Tack Room wall for all to see, it will proudly display the name of your show, what better advertising, especially if it stands out from all the others on the wall.
The following pages of our website will show you many fantastically different designs, utilising our wide range of printed ribbons, ensuring that yours will certainly be noticed.
We are geared up to producing and stocking a huge range of quality rosettes and sashes at relatively short notice, it's always worthwhile giving us a call to see if we can hit your deadline.
We are a family run business celebrating our 33rd Anniversary in 2020 and you can always be assured of our excellent service and top quality products such as club, champion and designer rosettes to equestrian and corporate awards.
We were pleased to be chosen to produce the rosettes for the London 2012 both Olympic and Paralympic Games, meaning that our products have been won by champions all over the World as well as throughout the UK, and we have been delighted to introduce our new ranges in 2020.
Specialists in Equestrian awards
We have gathered together the largest range of these Trophies available, and have trophies to cover most
Equestrian disciplines, from dressage to dog shows, horse racing and horse shows.
Trophies From Showstoppers
Trophies are typically associated with achievement in Sporting Events, but equally these days they are being awarded more often for Corporate Events, such as Team Building, and Award ceremonies that recognise staff involvement and success.
Our In-house engraving services include engraving onto Brass and Glass, and enable us to produce and engrave company logos and images for any kind of event or sporting award you can think of.
Huge range of Trophies
Click on the Brochure icons at the bottom of this page to browse our online catalogues, which offer you an enormous range of awards to suit all pockets and styles.
Showstoppers offer Local, National and International Worldwide delivery, so why not contact us today to see how we can make your Event stand out from the rest and run smoothly.
TALK TO US ABOUT YOUR REQUIREMENTS AND SEE WHAT WE CAN COME UP WITH, CALL US ON 01623 754985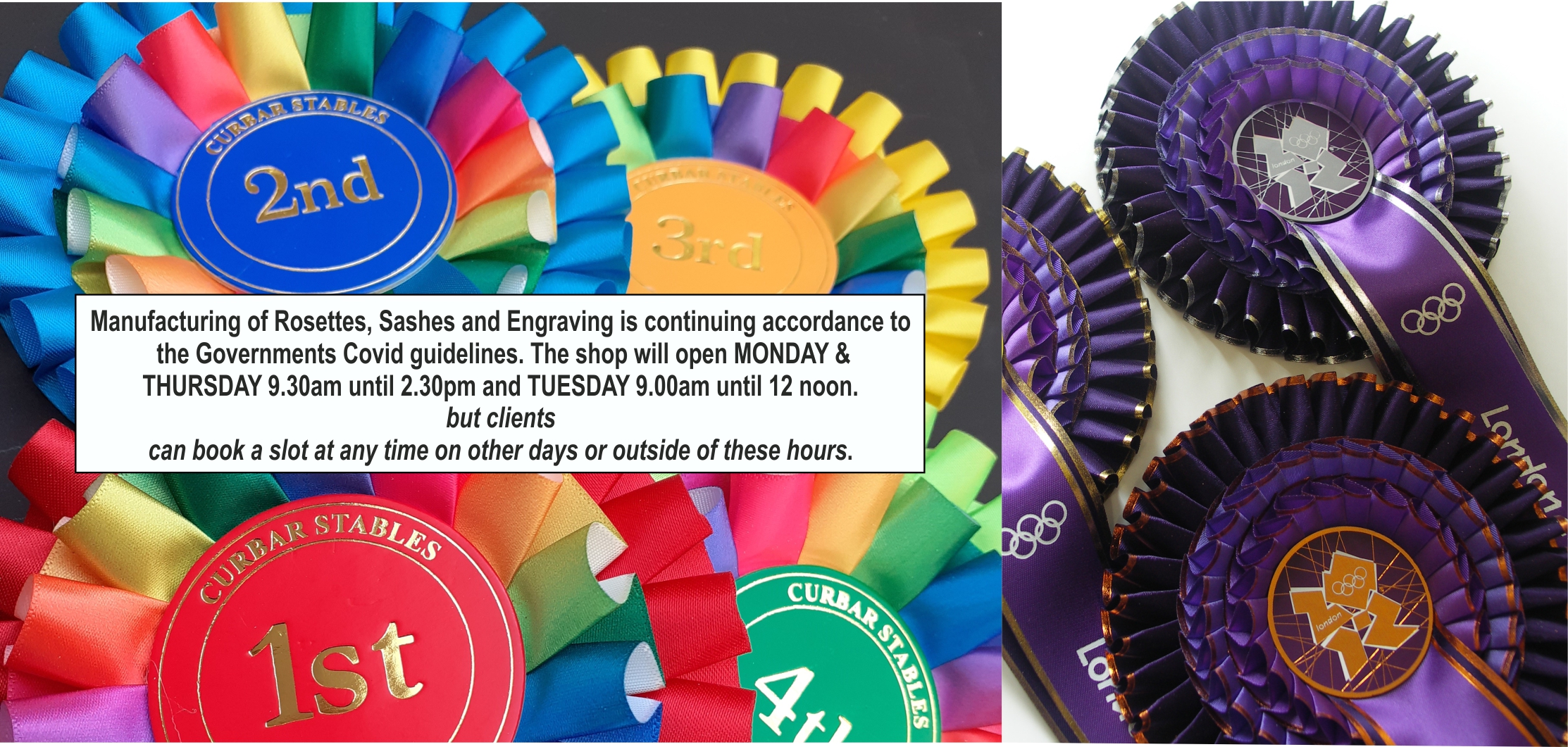 Rosettes
How do you like to mark an achievement? Of course, we always enjoy the feeling of achievement, or helping others pursue their own ambition in that way.
There's also the ability to recognize acts of goodwill, kindness and dedication that may fall out of the natural bounds of 'victory and defeat,' as those concepts apply to sports games and more.
Recognition for achievement helps us understand the breadth of our accomplishments, and inspires us to go out and do more. Awareness of great behaviour can showcase the ideals we hope to live day to day, and shine a light on those actions and habits that turn normal people into those we can take inspiration from.
But what if you're like to have a marker of such worth, a token you could use to make such an achievement into a noted and tangible celebration?
Rosettes are a beautiful means of achieving this.
Why Rosettes?
Rosettes are classy, timeless pieces that can be carefully fixed to a range of items, be that a horse's reigns, the lapel of a suit, or even placed on a wall. They can be rested against a prize vegetable, or simply given to someone as a means of marking their achievement in a competition.
Rosette's are bold and serve as a beautiful, more customizable medal-like fixture. They come in all kinds of colours and are granted their namesake thanks to the rose-like face each one is designed with. They can also sport an emblem as well as a few words upon the centrepiece, making the intent of this award clear.
Sourcing rosettes is easy and they tend to be quite affordable, even when customized, but it's the symbol they provide that remains priceless to so many.
What events and achievements are Rosettes most suitable for?
While we have spoken of rosettes as excellent markers of achievement, they are also worn by entities hoping to identify themselves. For instance, they tend to be worn by political parties during election cycles in order for the members to properly showcase who they are and which party they represen
The beauty of rosettes is that they can be applied to almost any event or outcome that deserves recognition. For instance, a 'third place, second place, first place' swimming competition at the club you run could use rosettes as a nice supplement to the certificate of achievements you give out.
A rosette can be given to an athlete, or a someone who may be accepting an award, or at a corporate event recognizing employee achievement, or simply to give to your children for being so well behaved during the Christmas festivities. Of course, rosettes aren't necessarily always a recognition of achievement or even a means by which to celebrate someone entirely. A rosette for 'world's best snorer' could be given to your partner in order to enjoy a lighthearted joke with them at the end of the year.
The beauty of horse show rosettes is that they never fail to put a smile on the face on the recipient, and all those around them. They're ultimately a positive indication of goodwill, friendship, and appreciation. As such, their creative applications are near endless.
What kind of Top Quality Rosettes are available?
While medals and engraved awards are customizable to an extent, rosettes can be crafted to many different specifications, and many different colours.
From club rosettes marking a hobbyist gathering, to designer rosettes intended to make a statement, to championship rosettes that provide a thorough celebration of those who are awarded such recognition, colours abound, and the centrepiece provides room for an emblem, a logo, or some text to showcase what the rosette is for.
Of course, rosettes can also be crafted in comical sizes or can be small enough to suit a child. What matters is the intent behind it.
Rosettes from Showstoppers
Showstoppers Rosettes & Trophies are an excellent service that design and hold all ramges of rosettes, sashes, equestrian trophies, corporate awards, and more.
If you're looking for rosettes crafted with care and uniform designs, they're among the best. Our rosettes have been used for sporting events, political gatherings, and more. Based in the heart of Nottinghamshire and open five days a week, as well as an excellent website you can consult at all hours of the day, we'd recommend they serve as your first port of call.