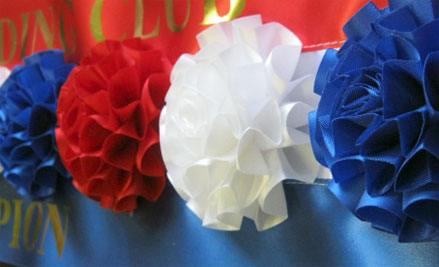 The Ultimate award, whether it is the affordable single band sash or the superb Pom Pom sash, there's nothing to beat them.
All designs are shown as horse sashes but they can be produced to fit any size Cattle, Dog or Human.
Prices include Velcro fastening and tassel and all printing.
Print colours are also available in Silver, Black or White.
Single Band

SB1 Horse or Pony £6.99

Three band

TB3 Horse or Pony £10.99

Frilled Edge

FB3 Horse or Pony £15.00

Pom Pom

PP1 HORSE OR PONY £18.00

Five band

FB5 HORSE OR PONY £15.00

Sashette

SS1 £12.50